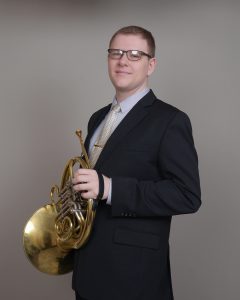 Hailing from Greer, South Carolina, Kyle Schober is currently a doctoral student in Horn Performance at the Eastman School of Music. He earned his Bachelor's degree in Horn Performance at the Eastman School of Music, subsequently earning his Masters degree in Horn Performance at Penn State University as the graduate teaching assistant, where he was also awarded a Professional Performer's Certificate. His teachers include W. Peter Kurau, Lisa Bontrager, Maura McCune-Corvington, Jacek Muzyk and Paula Riddle.
An avid teacher and freelancer, Kyle maintains an active studio as an intern instructor of Horn at the Eastman Community Music School, and has performed with several local ensembles, including the Rochester Philharmonic Orchestra. During his time at Penn State, he was a featured soloist with the Penn State Symphonic Wind Ensemble, as a co-winner of the annual concerto competition. Outside of music, Kyle enjoys tending to his garden of violent carnivorous plants and hot peppers, and is an avid cook and pysanky artist.
Kyle attended the Kendall Betts Horn Camp in 2017 and 2018, has been a staff member since 2020 and is looking forward to returning to camp in 2023.