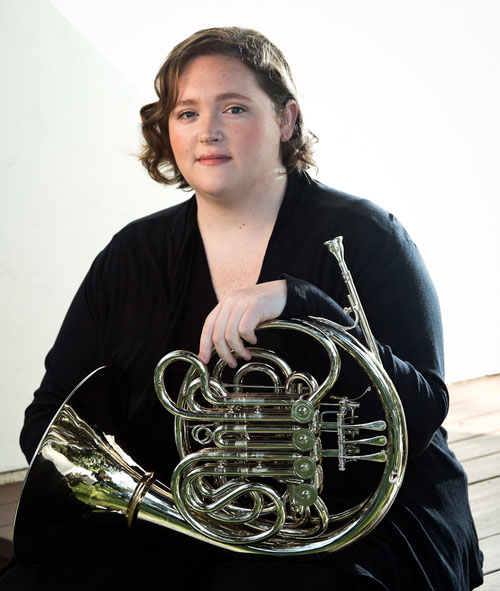 Carrie Rexroat is a highly sought-after performer, recording artist, adjudicator, and educator. She currently performs as 2nd Horn in Symphony Tacoma, but held previous positions as 4th Horn in the Dearborn Symphony Orchestra (2012/13), as 2nd/4th Horn in the Sarajevska Filharmonija in Sarajevo, Bosnia & Herzegovina (2015/16), and as 2nd Horn in the South Dakota Symphony Orchestra (2016-2018). Though currently residing in Seattle, WA, Rexroat has lived and worked in Southeast Michigan & Los Angeles, and has performed with Seattle Symphony, Pacific Northwest Ballet, Honolulu Symphony, Toledo Symphony Orchestra, 5th Avenue Theater, Spokane Symphony, Yakima Symphony Orchestra, Olympia Symphony Orchestra, Santa Barbara Choral Society, Hollywood Chamber Orchestra, Battle Creek Symphony, San Bernardino Symphony, & The Auburn Symphony. As a recording artist, Ms. Rexroat can be heard on albums such as Artifacts (Equilibrium Records), Points of Departure (Equilibrium Records), Placebo: A New Musical (Solid Sound Studios), as well as various video game, motion picture, TV and commercial scores recorded in Los Angeles & Seattle.
Rexroat has also been successful in multiple solo and chamber music competitions. In 2009, she received the Andrew J. Lum & David R. Julliet Young Artist Scholarship upon winning the Ann Arbor Concert Band Concerto Competition, and in 2014, she and the other members of Gold Coast Brass won the Burke & Bagley Prize for best performance of Early Morning on the Waterfront. Most notably, she and the other members of The Cardinal Winds were semifinalists at the 2015 Fischoff Chamber Music Competition, finalists at the 2015 Coleman Chamber Music Competition, and won grand prize at the 2015 Plowman Chamber Music Competition.
In addition to performing, Rexroat is an equally passionate music educator and advocate for community outreach programs. Though having taught privately since 2007, Rexroat is currently on faculty of the Federal Way School of Music as an Artist-in- Residence and enjoys teaching private trumpet and horn lessons to students of all ages. Rexroat is a two-time recipient of the Max H. Gluck Fellowship, a program which seeks to bring music to the underserved communities of Los Angeles, and in 2014/15 performed with the Oakwood Brass Outreach Project, sponsored by the EMERGE program with the Pasadena Arts Council. Rexroat has also served under various brass coaching titles with various Middle/High School band programs in Michigan and Washington since 2008, and in January 2019, will begin serving as an adjudicator for the North Central Washington Music Educators Association.
Rexroat received her Bachelor of Music in Horn Performance from the University of Michigan in 2013 having studied with Adam Unsworth and Bryan Kennedy, and completed her Masters of Music in Horn Performance in May 2015 from the University of Southern California having studied under Dr. Kristy Morrell. In her free time she enjoys too many mocha lattes, has a five-year-old orange tabby named Milo, and side- hustles as an online ESL teacher and dog walker. In the summers she enjoys camping, hiking, and exploring the Pacific Northwest, and traveling to New Hampshire to serve on staff at Kendall Betts Horn Camp. For more information, please visitwww.carrierexroat.com.