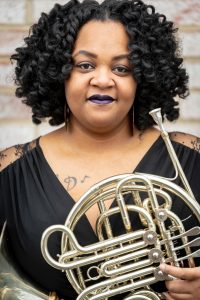 Shanyse Strickland is a multi-instrumentalist, vocalist, composer, and arranger. While French horn is her primary instrument, Ms. Strickland plays a variety of woodwind and brass instruments.
---
Originally from Akron, OH, Shanyse Strickland has led a life full of music in various shapes, forms and sizes. Starting her musical journey on wind instruments, Shanyse began as a flutist, then switched to the French Horn and eventually a host of other brass instruments, including trumpet and trombone. Combining her love for singing, composing/arranging and playing the horn, Shanyse has established her self as a "jack-of-all-trades, but a master of a few."
Shanyse has had a career full of new and innovative experiences with world class musicians all over the country. While pursuing her undergrad at Youngstown State University, she played trombone and flute for the reuniting Ohio Players, under the direction of the bands piano player and songwriter, Billy Beck. While in Pittsburgh, she was the flute feature of a local group called the Level Up Band, where she performed a variety of genres including neo-soul, jazz and R&B from the past and present. Paying homage to rock n roll pioneer Betty Davis, she performed as a guest artist with the Davis's original band as a part of an independent documentary filmed in Pittsburgh. Shanyse was the winner of the 2016 Jazz Solo Competition at the International Horn Symposium (IHS), where she was able to perform in front of jazz composer and hornist David Amram, along with a host of other jazz hornists. She recently won a space as a composer in the 2023 Music by Women International Festival, which will premiere a commissioned piece titled Afrofuturism, which also was the winning piece for the Urgent Art Fund grant through SPACES. After relocating to New Jersey, Shanyse performed at the 2019 Heisman Trophy Ceremony aired on ESPN, along with her recent performance at 2021 Heisman Trophy Ceremony including the Heisman Trophy Gala. Expanding her love for writing music, Shanyse has written and published seven original works, one of which was performed by the horn section of the New Haven Symphony titled "Moods." Shanyse has written commissioned works for the horn section of the Seattle Symphony, the brass faculty at the University of Texas, the DC Strings in Washington, DC and many other musicians around the country.
Shanyse currently freelances with horn and flute, and teaches an independent studio of students in greater New Jersey. She is continuously composing and doing track work for various artists around the country.