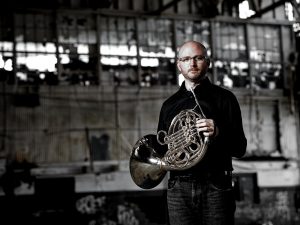 Jesse McCormick enjoys a distinguished career as an orchestral hornist, soloist, chamber musician, and pedagogue. He was appointed to the horn section of The Cleveland Orchestra by Music Director Franz Welser-Most in 2006. Mr. McCormick has performed with the Minnesota Orchestra and the New York Philharmonic, including an appearance on the nationally-televised PBS series Live from Lincoln Center. In 2005, Jesse McCormick took Top Prize in the International Horn Competition of America's Professional Division.  He has performed as a soloist with The Cleveland Orchestra, Cleveland Philharmonic, The Denver Brass, Chamber Orchestra of Colorado Springs, and Windworks Ensemble of Capetown (South Africa).
Mr. McCormick is currently a member of the "Factory Seconds Brass Trio," a nationally renowned ensemble comprised of fellow Cleveland Orchestra members Richard Stout and Jack Sutte. Factory Seconds premiers, performs, and records an extensive catalog of 20th and 21st century music. The ensemble made it's Carnegie Hall debut in 2018 with the Baldwin Wallace Symphonic Wind Ensemble. Factory Seconds Brass Trio returned to Carnegie Hall in 2019, performing with the Interlochen Arts Academy Band.
Jesse McCormick serves on faculty at Baldwin Wallace Conservatory and is the Associate Artistic Director of Kendall Betts Horn Camp. His former students enjoy successful careers as orchestral musicians, music educators, music therapists, and arts administrators. Mr. McCormick has appeared as a lecturer and clinician at University of Cincinnati College-Conservatory of Music, Cleveland Institute of Music, Curtis Institute of Music, University of Denver, University of Florida, Florida State University, The Juilliard School, Manhattan School of Music, University of Miami, University of Minnesota, and San Francisco Conservatory. He has taught masterclasses in Asia, Africa, and South America.
Before joining The Cleveland Orchestra, Jesse McCormick served as fourth horn with Colorado Symphony and was a member of The Denver Brass.  He began his studies with Sally Ann Wilson in Colorado Springs and completed his studies with Jerome Ashby at The Juilliard School. Mr. McCormick performs on a Conn 8D and an Alexander 103.