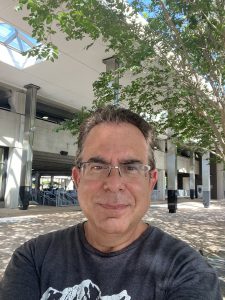 Paul Basler is Professor of Music at the University of Florida where he has been on the faculty since 1993. Prior to his appointment at UF, he served as the Fulbright Senior Lecturer in Music at Kenyatta University, taught at Western Carolina University, and was the North Carolina Visiting Artist in Residence at Caldwell Community College. Basler received his B.M. degree from Florida State University, M.M., M.A. and D.M.A. degrees from Stony Brook University, and has garnered teaching awards from the University of Florida, Western Carolina University, the Dominican Republic's Ministry of Culture and the Kenyan Office of the President's Permanent Music Commission.
Basler is a frequent guest performer and composer at national and international music festivals, horn society workshops and educational institutions. He has been a member of the Brevard, Charleston, Valdosta, Greenville and Asheville Symphonies and continues to maintain a busy performing schedule throughout the United States and abroad. Basler has received American Cultural Affairs Specialist Grants from the U.S. Department of State and for ten years served as Visiting Artist with the Dominican Republic's Ministry of Culture and National Conservatory of Music.
Basler's compositions have been performed throughout the world and have received performances at Carnegie Hall, the Disney Concert Hall in Los Angeles, the Festival Internacional de Música de Cantonigròs, Chicago's Orchestra Hall, the Llangollen International Musical Eisteddfod, the Kennedy Center, the Sydney Opera House, Lincoln Center, and by the Shanghai Philharmonic.  His music is published by Carl Fischer, Colla Voce Music, jamesnaigus.com, Walton Music, Hinshaw Music, R.M. Williams Publishing, ALRY Publications, Veritas Musica Publications, and the IHS Press.
Basler's horn teachers have included William Purvis, William Capps and Barry Benjamin, and his composition teachers have been John Boda, John Downey, Bülent Arel, John Lessard, and Billy Jim Layton.