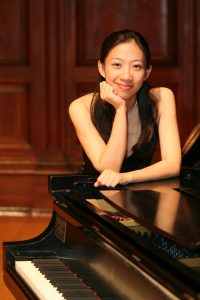 Macau pianist, Ieng Ieng Lam has made frequent solo appearances with orchestras in Macau and Europe since her debut at age 14.  Her acclaimed performance of Franck's Variations Symphoniques in 2010 at the Berlin Koncerthaus was described as "absolutely wonderful" by the Berliner Morgenpost.
Lam is also in high demand as a collaborative artist, most notably with the flute and the saxophone studios at the University of Illinois at Urbana-Champaign. Before being appointed as the faculty collaborative pianist at U of I, Lam served as faculty at Eastern Illinois University.
A DMA graduate from University of Illinois, Lam studied with esteemed teachers in Asia and North America, including Gabriel Kwok at the Hong Kong Academy for Performing Arts and professor William Heiles at the University of Illinois.